Kindra's Mountain Cottage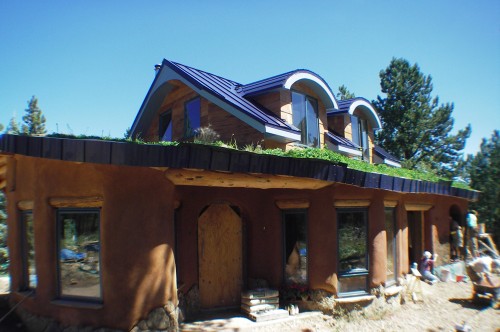 In August, I had a chance to sling some mud over at Kindra's Mountain Cottage. This beautiful, 1200 square foot, fully permitted cob house is tucked away in the mountains of Black Lake, in northern New Mexico. It's constructed from locally harvested round wood, straw bale, cob, and adobe. It's a passive solar design with radiant ( earthen ) floor heating and a living roof. The quality is magnificent, like we have come to expect from Kindra's work. Though the cottage is a bit of a family art project, with most of the labor provided by Kindra, her family and friends.
When I arrived, the work party was applying the exterior render to the walls. A mix of 2 red clay, 1 lime, 3 course sand, 3 fine sand and some chopped straw. Then washed with a color coat while still wet.