The Cob Builders Handbook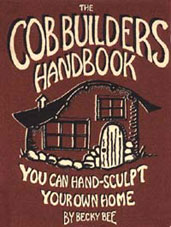 The Cob Builders Handbook, You Can Hand-sculpt Your Own Home, by Becky Bee is a great book about cob building. I recommend reading this book along with The Hand Sculpted House for beginning cobbers. It's a fun read and it's accessible, in part, online at weblife.org/cob.
Of course, you can order the full book in paper form from Becky's web site. While your there check out her book You Can Make THE BEST HOT TUB EVER! for making a wood fired bath tub.