Finishing the Rocket Stove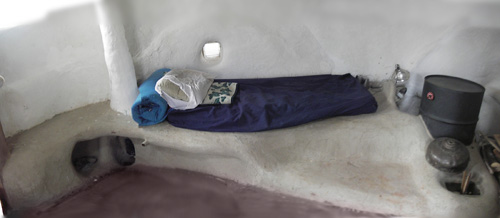 A while back, I posted about my experiences constructing a Rocket Stove.
Since then I've added the finishing touches to the Moonunit Rocket stove.
It was a project within a project. It's guts, made of firebrick, a 55 and 30 gallon drum, vermiculite and clay and stove tubing, went together pretty quickly, but it took me a while to finish the mass part. Several tons of earthbags, urbanite, rock, sand and cob went into building up the mass. The finish floor swallowed much of the body of the stove, about 1 1/2 feet worth. What was left, above the floor, turned into a organically shaped bench and bed.

It works! There's nothing like sitting on the warm and sometimes very hot surface. It heats the space pretty well. Though it doesn't provide a quick heat except for around the drum. Someone needs to stoke it daily to keep the space warm.
Fire. It's mesmerizing. When the fires going – all I want to do is sit there and poke it- look into it's flame and absorb it's glow. In retrospect I would have made more space to sit on top of the fire – All around it. I love looking at it. The bench and bed warms up after about 4 hours of burning, and it holds the heat for much longer… maybe a day or two. It's exit flue could have been executed more gracefully, but it works. It escapes out the west wall and shoots upward about 3.5 feet above the roof. Going out the wall meant I didn't need to put holes in the roof, which was a big relief for me.
Occasionally the draft moves in reverse – when it's warmer outside then in or when it's really windy. That's where to primer comes in handy. Right below the vertical shaft of the exit flue is the primer opening. One can light a small bit of newspaper to start the draft going in the right direction. Then quickly get the fire started. There was no damper in this model. I would probably add one in future models to keep the cool air from coming in. I don't think Ianto prescribes a damper in his designs.
When it's not in use it is a rocket mass cooler. This is particularly nice in the summer while you sit and feel the heat leave your body. I am amazed how the thermal mass collects, moderates and releases energy.
Moonunit Rocket Stove photos »
12 Responses