The Regenerative Home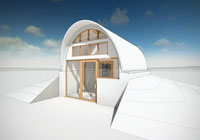 Scott Howard of Earthen Hand has been sculpting, building and offering workshops for a decade. All along employing natural building techniques and appropriate technology to yield beautiful resonant spaces.
The new initiative is researching and developing their own flavor of a ecological, low-cost, self-sufficient home, called The Regenerative Home. Some of the key featured of this design are: passive solar design, PAHS or passive annual heat storage, earthbag building, adobe Nubian vault, low energy appliances and integrated garden space. All with in a 500 round foot design that will cost 15K in materials.
The idea is to incorporate cutting edge green technologies into a affordable, replicable, and tested design. This project is being built at The Wirikutu Peace Fellowship, near La Garita, Colorado, which plans to become an eco-village and buddhist retreat center. Besides the building of the prototype, open source plans, test results, and a documentary will be available in the future.
They need your support to make this a reality…
Learn more about The Regenerative Home project and donate »

Update: