SunRay Kelly's Extreme Crib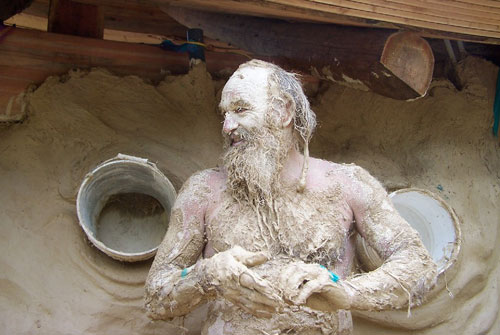 SunRay Kelly in the mud. Photo by Chris McClellan.
If you've voyaged into the realm of natural building you've probably seen the awe inspiring work of Master Sculptor Builder SunRay Kelly. His sculptural homes seem to come straight out of a dream! He has been a great teacher and inspiration for many. Personally, the moment I saw a photo of the "The Yogurt" I was hooked on cob and the possibilities for our built environment. Thanks SunRay!
I love this story on his website:
SunRay's organic designs take their form from the shapes of living trees. His study of architecture and sculpture only reinforced his affinity for the forms Nature takes, in rejection of the artificial forms in rectilinear Western architecture.
The teacher in his first college drafting class told SunRay on seeing his designs,

"Learn to use a hammer, boy, because no one but you is going to be able to build that."
SunRay's work is showcased, by his daughter Kumara, on MTV Extreme Cribs.
We get a tour through the one-of-a-kind homestead known as The Nature Village.