Insight Sauna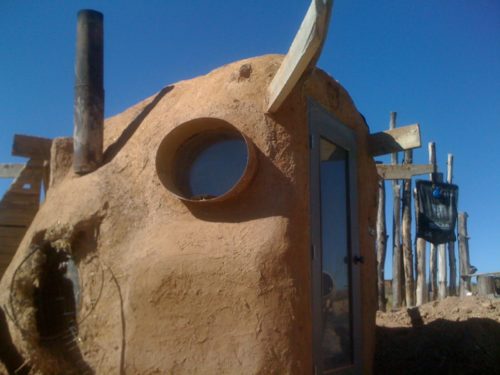 While the season gives way to Fall I've been constructing a sauna to keep me warm through the winter. The health benefits are many and nothing like being extra cozy in the long cold winter.
Some of the requirements of the project, were I to endeavor on another ( I'm crazy – there's already enough to do! ), were speed in construction, low cost, quick-hot-heat and high insulation value. Straw bale came to mind, but lately I wouldn't call straw bales cheap, at least not in these parts. I decided to build with salvaged materials that I had laying around and see how far I could get. I happened to have a lot of aspen laying around from last years wood excursions. So I decided to cordwood ( cobwood ) the wall system.
Rob Roy's The Sauna book teaches building with cordwood, among other methods. This book has been a welcome companion along the way. I took a little different approach to cordwood. I stacked aspen, a layer of light clay between as a mortar. Aspen is a pretty fluffy wood, so I'd imagine it would be a good insulator. The wall building went pretty fast using the aspen as the building blocks with in a wood lattice. Earthen plaster inside and out, except for a few choice spots to reveal the wood pattern. Since I already had a Vogelzang barrel stove kit, I opted to use it. A barrel and an afternoon of fabrication and whalla – a stove. Of course I wanted to build a rocket stove, but alas this will do for now!
I'll be posting more photos as the project progresses… stay tuned!
One Comment