Baking Bread in My Cob Oven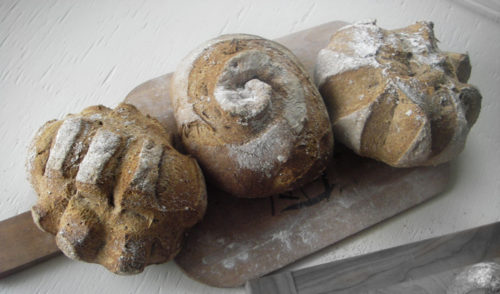 Have you ever heard the expression "I'm a builder not a baker"? It's funny, until recently, I've made more cob ovens than loaves of bread.
My friends Kevin and Kristy ( KK ) came for a visit and we reconstructed the Oasis cob oven. The size was a little too small and it had seen a years-worth of weather, so I destroyed the dome. That's what I love about cob… you can start over, with ease, creating a whole new form. This time made it a little taller inside and added a chimney stack just for fun. So, it took a while to get all the elements in place… remodeling the oven, gathering ingredients, and researching recipes. But then one day, it was all together, and it was time to bake.
Artisan Bread in 5 minutes?
Artisan Bread in 5 minutes a Day By Jeff Hertzberg and Zoë François
Preparing the dough
Makes 4 1-pound loaves:
3 cups lukewarm water
1 1⁄2 tbsp granulated yeast (1 1⁄2 packets)
1 1⁄2 tbsp coarse kosher or sea salt
6 1⁄2 cups unsifted, unbleached, all-purpose white flour
Cornmeal for pizza peel
That's it! So simple. What have I been waiting for all this time?
Mix all the ingredients together and let it sit for 2 hours. The dough rises and you can use it right away or set it in the fridge for later. The dough definitely is easier to handle if it has been in the fridge for a while. Letting it sit in the fridge for a week gives a touch more flavor, almost like sour dough. I start the fire and form my loaves so they can rest as the oven heats up.
Baking the bread
I've been burning my oven for 2 hours or so, which consumes about a wheel barrel of wood. After the fire is spent I remove the embers from the oven. Then wash down the baking surface ( fire bricks ) with a wet rag until the surface is clean. This is important, since bits of coal and grit aren't the texture I'm after. If your planning on cooking pizzas all night you may want to leave some embers around the sides of the oven to keep a high heat. Though the cob absorbs the heat from the fire and radiates it for hours. For baking I add a small metal dish full of water, which creates steam and a nice crust.
After about 25 minutes at 350 º the bread is done. Golden brown. After a two hour burn the bread seems to take about 20 minutes and sometimes less. Perhaps I can burn less wood and leave the bread in the oven for longer… Still fine tuning.
Let the bread sit for at least 20 minutes, and bon appetit! Melted butter with a little honey on fresh bread. Mmmm… bliss.


What a joy such a simple thing can bring – baking your own bread. Not to mention it's better bread than you can buy at the store for pennies on the dollar. Also baking bread in a outdoor cob oven can keep the heat out of your house in the middle of summer.
I was surprised at the quality of the bread, and from such simple and minimal ingredients. I've been baking a few loaves on Sunday and if kept in a container will last all week. Of course friends always like to receive fire baked cob-oven-bread too.
Do you have any recipes I should try?
3 Responses