Natural Building DVD from House Alive!
Coenraad Rogmans of House Alive! produced "COB! — The DVD, A Lively Pictorial of Cob Construction"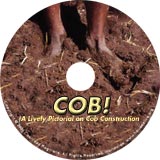 "With more than 250 pictures, spread out over five chapters, this 22-minute DVD will illustrate to you the beauty and simplicity of building with cob."
An inspiring slideshow of natural building activity and the joy that seems to be present while playing in the mud. Wonderful examples of cob buildings and the people that make them. I think it's a great introduction to cob – the material, cob construction and the magical spaces that can be made with clay, sand and straw!
I purchased the DVD and found it fun to watch. This isn't a how to film; it's more of a pictorial or slideshow. I was hoping for a little more narration or video of people creating cob structures… maybe the next one?
I have also enjoyed reading the My House Alive! Online Magazine, a collection of Coenraad's articles.